FunCOOLio is an instrumental band founded in 2007, the band plays music in the styles of funk/fusion using jazz elements. The name of the band consists of two words — "Funk" and "Coolio" (a popular in the 90s R'n'B artist). Funcoolio plays their own compositions uniting funk from the 70s with the structure of modern electronic music and unique sound of the Hammond organ. The band has performed with such musicians and projects as Deniss Pashkevich and Funk Therapy, Mixmaster AG, Very Cool People, S&T Syndicate, Pieneņu Vīns, Raimonds Macats & RM5, Aivars Hermanis, Roberts Gobzinsh and Raphael Wressnig (Austria).
http://soundcloud.com/funcoolio
http://www.facebook.com/Funcoolio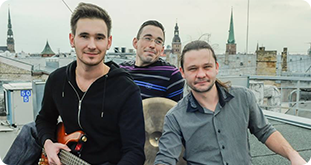 Electroacoustic band O'Night Quartet plays modern instrumental music mixing live sound with loops and digital effects. The band plays original compositions with funk, house, nu-disco and improvisation elements. The band consists of Olgerts Dreimanis — drums, Mihail Kasper — keys, Aleksandrs Ozols — bass guitar and Kristaps Lubovs — saxophone.
Very Cool People is an instrumental band that plays music in jazz-funk and fusion styles. The listeners of VCP music are not only jazz lovers and musicians, but also people who have never yet been acquainted with jazz and fusion music genres. VCP try to make complicated and serious music easy comprehendible and enjoyable to every single person. VCP play their original music that consists of different jazz, funk, hip-hop and soul music elements.
They also embellish their music with some non typical effects.
http://www.verycoolpeople.org
http://www.facebook.com/verycoolpeople
http://www.youtube.com/user/ccmpdcsm
Deniss Pashkevich Funk Therapy is one of the leading funk and groove bands in the Baltic States that plays original compositions in the best traditions of funk. Deniss Pashkevich is a flautist, saxophonist, composer, producer and a teacher of jazz and improvisational music, gained his education both in classical and modern rhythmic directions. Deniss is inspired by the music of John Coltrane. Throughout the years of his career Deniss has become the accompanying musician of three major sound recording studios — Marca Reeds (France), Theo Wanne (USA) un P.Mauriat (France), has participated in recording over 20 albums, one of last and very important is Latvia-Denmark collaboration — Frank/Pashkevich Quartet album "Outlook".
http://www.denisspashkevich.com/
https://www.facebook.com/denisspaskevich
Pieneņu Vīns — funk-jazz-fusion band founded in 2005. Now the band consists of 6 professional musicians that are constantly improving their music skills while participating in a vast amount of workshops, projects, competitions and festivals. The band has won several competitions, such as MicRec Open4 (2007), Tu Esi Pamanīts (2008), participated in festivals: Bildes, Fonofest, Sarkasms, Bauzlande, Sigulda Jazz, Zem Viena Jumta, Jazz Sessions Artelis, Pārdaugavas svētki, Jazz Days Liepaja, Shine Cafe Festival 2013, Klaipeda Sea Festival (Lithuania), Lelle Alternatiiv, Clazz Jazz (Estonia), Live in Blue Bay (Ukraine), Dziesma 2011, Eirodziesma 2013, International Jazz Day Latvia 2014. The band has collaborated with such musicians and projects as Serge Junior Robinson, Inga Bērziņa, Platz Für Tanz, Danceradio, Tommaso Troncon, Fil Straughan.
http://pienenuvins.lv/
https://www.youtube.com/user/DWRiga
https://www.facebook.com/pienenuvins
B of G is a union of young Latvian jazz musicians that was born inspired by such world famous bands as Tower of Power, James Morrison and the Hot Horns Happe. Together they are nine gentlemen: Viesturs Grapmanis — trumpet, Krists Kristaps Liepa — trombone, Roberts Martinovskis — soprano, alto and tenor saxophone, Kristaps Lubovs — tenor saxophone, Eriks Kibermanis — baritone saxophone, Rihards Goba — guitar, Dāvis Bindemanis — piano, Ivars Dauksts — bass guitar, Kalvis Slezhis — drums, and one lady — a singer Arta Jekabsone.
http://www.soundcloud.com/bunchofgentlemen
http://www.facebook.com/BunchOfGentlemen